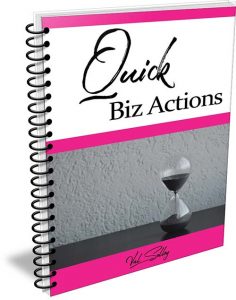 I'm happy you popped over here to see about my 14 Quick Biz Actions. I know you have a lot of choices to sign up for, so I'll keep it quick…bahahaha (um, you'll get to know me better and I'm a talker, that's why that is funny)
I'm offering you access to my Quick Biz Action guide that was created to get you making positive moves forward with your business. It also includes 14 quick videos associated with each of the actions.
We all have a lot we COULD be doing. Some would even say SHOULD be doing.
If you are like most, you have giant lists of things and ideas and to do's. But action makes us money and doing things to get out of your biz circle increases your reach.
Stop the shoulds and coulds and get biz done.
Get access and grab one thing off the list to get done today.
Sign Up Below To Get Access To The Guide & Videos