HEY! It's about time we found each other.
I'm Val Selby and I coach female entrepreneurs how to build communities of raving fans that crave your expertise.
I believe in one thing: Mindset owns your business
Every business I've succeeded or "failed" at over the last two decades can be directly correlated to my mindset. When I knew it would succeed it did and I would flip them. When I knew it would fail or didn't believe in myself, then it went down the crapper.
Owning my big personality was one of the best things I ever did for my business. I spent years floundering because I was trying to copy what was working for others and being who I thought I was supposed to be. It made me stay and play small. I knew if I went bigger then everyone would figure out I'm not this calm, cool, collected woman.
Hell no I am not!
And it's not just ok, it's perfect. My passion shows and attracts the right women to my community. Just like you 😉 (Waves excitedly and adds lots of my beloved exclamation points as I scream WELCOME TO MY FUCKING COMMUNITY!!!!!!!! …that's how it would be in real life, along with a giant hug as I ran to you across the room, creeping you out with the attention I was bringing us both. Not even sorry tee-hee-hee)
I decided to own my specialities and honed in on what I'm good at. That is making women feel comfortable talking and creating that in communities. Community is not just groups on Facebook. Community is everywhere. It's YOUR followers. It's your list. It's your social media. Yes, Facebook groups are one of my favs, but bundles, summits and giveaways really get my attention for connecting with your community. Consulting on a new online event makes me go all nerdy.
You have to let people know what you have to offer. If you don't tell them how amazing you and your products are, then no one in the world will. They can not buy what they don't know exists. It's seriously that simple. TALK, TELL, SHARE. This coach knows how to pump you up and get you playing first string in the game. Don't be a benchwarmer!
Why do I coach?
Easy answer is I can't remember a time in my life that I didn't coach. Even as a tiny tot in ballet I can remember helping others get their steps perfected lol
I used to cringe when my family would say I've been bossy since birth, but now I embrace it. Yes, I am! And I know how to use it to my advantage and help people.
I have been helping new business owners online for well over 15 years. It comes naturally for me to offer the info I've learned since 2000. I'm a sharer by nature and as I share it helps me remember to continue working on the basics and not overcomplicate things.
Even in customer service emails I'm always coaching and asking questions. No matter how long you've been online you will benefit from coaching with the right person. A fresh set of eyes looking at what you are creating can help you skip past frustration. Plus, remember that mindset owns your business and coaching helps you see the bullshit you are telling yourself.
A Little More Personal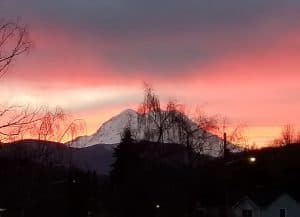 I've lived in the Seattle area for all but a few years of my life. Here is my view at our current house. I pretty much didn't care about the gorgeous house, I just knew I had to wake up to this view any day it's out.
I'm married to my high school sweetheart and our kids are grown. Now it's all about us and growing my business. I want to be able to travel even more when the world opens back up. Laptops thankfully make it possible to work from anywhere. Meeting women around the country has been amazing and I can't wait to get back to that.
And let's be real honest here. I make sailors blush when I talk, so if that's not your thing…you've been warned LMFAO
Now where to next?
I want you to know your ideal client inside and out. Head over to my Who The Hell Are You Talking To? quickie workshop. It's a 20 minute video and a fillable pdf you can access for free. Don't argue, just go.
I'll see ya around friend!
Biz Boldly,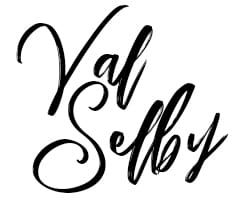 PS – Hey, want to listen to me on some podcasts?
Val Selby Helps Create Successful Virtual Events
What You Need to Know Before Hosting a Bundle or Giveaway Event
Val Selby (Get Past Your Sh*t Co-Author)
Oh yeah and I've been published! I'm chapter 13 in the Get Past Your Shit book available on amazon!