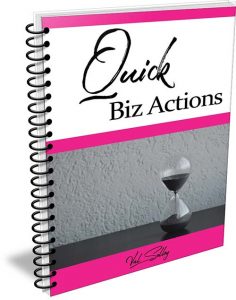 Welcome Content Creation Collection bundle buyer!

I know you have a lot of choices to sign up for, so I'll keep it a little basic here.
I'm offering you my Quick Biz Action guide that includes 14 quick videos associated with each of the actions.
We all have a lot we COULD be doing. Some would even say SHOULD be doing.
Giant lists of things and ideas. But action makes us money and doing things to get out of your biz circle increases your reach.
Stop the shoulds and coulds and get biz done.
Sign Up Below To Get Access To The Guide & Videos