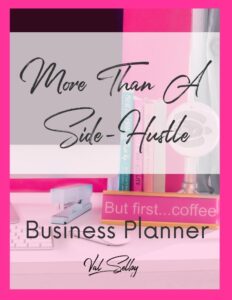 I'm so glad you made it over from the Unboxed Summit!
I cringe when I hear someone refer to their biz as a side-hustle. It just rubs me the wrong way.
One, there's no time in any of our lives to have something be a side anything lol Isn't that like joking about doing something in your spare time?
Second, biz doesn't have to be a hustle. Sure there's always work to be done, but having a plan in place means less spinning our wheels and throwing spaghetti at the wall to see what will work.
While I've been working online since 2000 and most of what I do and use is digital, I'm still a pen & paper girl.
Writing things down solidifies their importance to me.
Now I'd love for you to solidify how important your business is to you as well.
Use this bold planner to track and plan your awesome biz. Print it off and make your ultimate binder that is all about you and your goals.
Sections in the planner include:
Foundation for Success
Social Media
Financial & Budgeting
Productivity
and of course, Self Improvement
Sign Up Below To Get Instant Access To The Planner